Dr. Kristin Andruska
MD, PhD | CMDC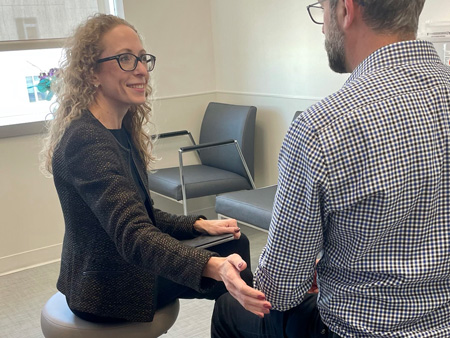 Dr. Andruska's Approach
Dr. Kristin Andruska is a board-certified neurologist and fellowship-trained movement disorders specialist. She believes in a patient-centered approach to the treatment of all movement disorders. She also has expertise in the use of focused ultrasound, deep brain stimulation, and botulinum toxin injections for Parkinson's disease, essential tremor, dystonia, and more.
Education
She attended the University of Texas at Austin, where she received her undergraduate degree in biology. After graduation she worked as a genetics researcher at the Baylor College of Medicine in Houston, Texas. She then attended the University of Minnesota as a predoctoral fellow of the National Institute of Health's Medical Scientist Training Program, earning both an MD and a PhD. She received a competitive Kirschstein fellowship to support her PhD research, which focused on the biochemistry of inherited neurodegenerative disease.
Residency and Fellowship
Dr. Andruska completed her neurology residency at Washington University in Saint Louis, where she also served as its first Chief Resident of Education. She was the recipient of the Irwin Levy Prize for Teaching and the Abdullah M. Nassief Award for Neurology. While at Washington University, she researched the molecular and genetic mechanisms of Parkinson disease. She completed her sub-specialty Movement Disorders Fellowship at Stanford University.
Experience
At the Parkinson's Institute and Clinical Center, she was Medical Director of the Movement Disorders Clinic and led a robust clinical research program. Currently, she serves as head of the California Movement Disorders Center and Chief Scientific Officer of The Neuroscience Research Institute.
Miller RL, Dhavale DD, O'Shea JY, Andruska KM, Liu J, Franklin EE, Buddhala C, Loftin SK, Cirrito JR, Perrin RJ, Cairns NJ, Campbell MC, Perlmutter JS, Kotzbauer PT. Quantifying regional α -synuclein, amyloid β, and tau accumulation in lewy body dementia. Ann Clin Transl Neurol. 2022 Feb;9(2):106-121.
Angelova PR, Andruska KM, Midei MG, Barilani M, Atwal P, Tucher O, Milner P, Heerinckx F, Shchepinov MS. RT001 in Progressive Supranuclear Palsy—Clinical and In-Vitro Observations. Antioxidants. 2021; 10(7):1021.
Bright JM, Carlisle HJ, Toda AMA, Murphy M, Molitor TP, Wren P, Andruska KM, Liu E, Barlow C. Differential Inhibition of LRRK2 in Parkinson's Disease Patient Blood by a G2019S Selective LRRK2 Inhibitor. Mov Disord. 2021 Feb 11.
Ojukwu DI, Andruska KM, Halpern CH. Lessons From George Floyd: Racial Inequalities in the Treatment of Parkinson's Disease. Mov Disord. 2021 Mar;36(3):599-603.
Davis AA, Andruska KM, Benitez BA, Racette BA, Perlmutter JS, Cruchaga C. Variants in GBA, SNCA, and MAPT influence Parkinson disease risk, age at onset, and progression. Neurobiol Aging. 2016 Jan;37:209.
Andruska KM, Racette AB. Neuromythology of Manganism. Curr Epidemiol Rep. 2015 Jun;2(2):143-148.
[Andruska] KM, Andresen JM, Duvick L, Lough J, Zoghbi HY, Orr HT. Partial loss of Tip60 slows mid-stage neurodegeneration in a spinocerebellar ataxia type 1 (SCA1) mouse model. Hum Mol Genet. 2011 Jun 1;20(11):2204-12.
Clinical Research Experience
Abbvie. M15-736. A Randomized, Double-Blind, Double-Dummy, Active-Controlled Study Comparing the Efficacy, Safety and Tolerability of ABBV-951 to Oral Carbidopa/Levodopa in Advanced Parkinson's Disease Patients.
Axial Biotherapeutics. AB-4166. The effect of a dietary extract on GI tolerability and gut microbiome in a free-living subset of Parkinson's patients.
E-Scape Biomarker. Biomarker Discovery in Parkinson's Disease.
Sanofi. MOVES-PD: Multicenter, Randomized, Double-blind, Placebo Controlled Study to Assess the Efficacy, Safety, Pharmacokinetics, and Pharmacodynamics of GZ/SAR402671 in Patients With Early-stage Parkinson's Disease Carrying a GBA Mutation or Other Pre-specified Variant.
Lundbeck. NOH402. RESTORE: A clinical study of patients with symptomatic neurogenic orthostatic hypotension to assess sustained effects of droxidopa therapy.
Retrotope. RT001. Compassionate Use Investigational New Drug. Expanded Access Protocol for the Treatment of Patients with Progressive Supranuclear Palsy with RT001.
Denali Therapeutics. DNL-0002. Denali Biomarker Study: A prospective collection of whole blood from patients with Parkinson's disease and matched healthy volunteers at Parkinson's Institute and Clinical Center for research purposes.
Parkinson's Institute and Clinical Center. Gastrointestinal Natural History Study: A Two-Year Prospective Longitudinal Study using Quantitative and Qualitative Assessments to Define the Natural History of Gastrointestinal Symptoms in Patients with Parkinson's Disease or at Risk for Developing the Motor Symptoms of Parkinson's Disease.
National Parkinson Foundation: Parkinson's Foundation Quality Improvement Initiative.
PPMI. Parkinson's Progression Biomarkers Initiative.
Cala Health, Inc. ET-14. PROSPECT: Prospective study for Symptomatic Relief of Essential Tremor with Cala Therapy.
Neuroderm. ND0612L. A Multicenter, International, Open-label, Safety Study of ND0612, a Solution of Levodopa/Carbidopa Delivered Via a Pump System as a Continuous Subcutaneous Infusion in Subjects With Advanced Parkinson's Disease.
Hoffmann-La Roche. PASADENA. A Randomized, Double-Blind, Placebo-Controlled, 52-Week Phase II Study to Evaluate the Efficacy of Intravenous RO7046015 (PRX002) in Participants With Early Parkinson's Disease With a 52-Week Blinded Extension.
"Parkinson disease, tremor, and other movement disorders are complex. It is important to take time to thoughtfully answer patients' questions, provide education about current research, discuss the pros and cons of all treatment options, and support their goals."